Send a real letter or card from the Internet anywhere in the world to anyone with a postal address whether you are a personal or business user.
Main advantages:
no need to go to the post office when you want to send a letter. This also saves you money.
you can send ordinary or registered letters to most European countries.
sending postal letters is as simple as sending en email - you can send from anywhere.
shipping fees are lower compared to the standard rates.
no need to buy stamps, envelopes and paper.
we will print the letter for you (black/white or in color) and dispatch it the same day.
the recipient will receive the letter as a standard postal letter with your address on the envelope.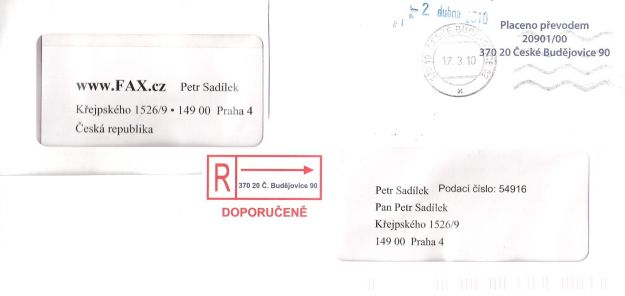 The price for the service consists of the price for printing, assembly and shipping. More in the price list.
How it works:
letters are sent as emails to the email address: posta@fax.cz
the letter is attached to the email message (the recipient's address has to be placed correctly in the document)
supported letter formats are PDF, Word (.doc, .docx) and Open Office (.odt)
your password (that you received during registration) must be specified in the email subject line
the letter is dispatched as soon as it is submitted
you will receive a confirmation email after the letter is dispatched.
you can also specify the type of the letter (ordinary or registered letter, color or black/white) in the email subject line
letters can also be sent using our web form (multiple document sending supported)